You will know them best for donning red carpet events or starring in hit TV shows and films, but these celebrities also have a hidden talent – STEM based degrees and qualifications!
If you're considering a future within the engineering or technology industries why not take some inspiration from these world-famous faces. Whilst we can't guarantee you will become a celebrity, we can guarantee you an exciting career path!
Bill Nye, Comedian (The Science Guy)
Currently known world-wide as "Bill Nye the Science Guy", it was actually his background in Mechanical Engineering that helped him realise his comedy prowess. After graduating from Cornell University with a Bachelor of Science in Mechanical Engineering in 1977, Bill headed to Seattle to work for Boeing, where he developed a hydraulic pressure resonance suppressor still used to date in the 747! He once stated in an interview that due to his fascination with aviation and space he applied to be a NASA astronaut several times but was unfortunately rejected each time. During his time in Seattle, Bill entered a Steve Martin look-a-like contest that eventually led to his appearances on Saturday Night Live and Comedy Central. Although he gave up his day job for comedy, his love for science and engineering still lives on.
Dolph Lundgrun, Actor (Rocky IV, The Expendables 2)
Before we knew him as Ivan Drago, Rocky Balboas 6'5" opponent, Dolph studied Chemistry and Chemical Engineering. Not just once either, Dolph actually holds a bachelor's and master's in Chemical Engineering and was studying at MIT on a Fullbright Scholarship before he decided to quit to pursue acting.
Rowan Atkinson, Actor (Mr. Bean, Johnny English)
Rowan Atkinson, one of Britains most loved comedians, actors and writers obtained a bachelor's in Electrical Engineering from Newcastle University in 1975, just three years before beginning his long-spanning career.
Whilst studying at The Queen's College in Oxford, to work towards his MSc in Electrical Engineering, Rowan pursued acting on the side with a variety of clubs, including the Oxford University Dramatic Society and the Oxford Revue as well as the Experimental Theatre Group. It's here that he was bitten by the acting bug and decided to forgo his career as an engineer.
Donald Sutherland, Actor (Hunger Games)
Before he made Katniss Everdeen suffer in the Hunger Game trilogy, Donald Sutherland graduated from the Royal Institute of Technology in Sweden with a degree in Chemical Engineering. Usually being admired by younger actors due to his long-spanning 50 year career, Donald previously studied heat and mass balances that can inspire younger generations of engineers.
Teri Hatcher, Actress (Desperate Housewives)
Before Wisteria Lane made Teri Hatcher one of the highest pad TV actresses, she was able to answer a lot of complicated math questions. Whilst studying at the American Conservatory Theatre in San Francisco, Teri was also taking a degree course in Mathematics and Engineering at De Anza College in California.
Kalpana Chawla, American Astronaut
Born in Karnal, India. Kalpana completed an Aeronautical Engineering degree at Punjab Engineering College, before, pursuing further studies in the US. After joining NASA, she became the first Indian-American and the first Indian woman in space.
Despite her tragic death in the Space Shuttle Columbia disaster, her determination and curiosity ensure that she still remains an inspiring figure for the next generation of young engineers.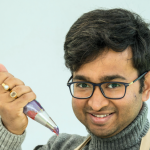 Rahul Mandal, The Great British Bake Off Winner 2018
Rahul Mandal, is best known for being crowned as this year's GBBO winner but during the day is better known as Dr Rahul Madal, an engineering researcher at the University of Sheffield's Nuclear Advanced Manufacturing Research Centre. Born in India, Rahul came to the UK in 2010 on a scholarship to study for his PhD in Optical Metrology at Loughborough University. He joined the Nuclear AMRC in 2015, to develop innovative automated techniques for inspecting components for any contamination or flaw.
Upon winning he stated "Quite a lot of guys and boys at school – they think they can't bake. Anyone can do it. Baking is a science. It's a mixture of physics, chemistry and engineering." With his research specialising in light-based measurement of engineering components, Rahul started baking cakes for his colleagues only two years prior to his Channel 4 success.
Alfred Hitchcock, Director
Famous movie director Alfred Hitchcock, was schooled in engineering before entering the film industry. He graduated from the London County Council School of Engineering and Navigation before looking to the suspense and physiological thriller genres. Hitchcock's detailed practice of meticulously drawing scenes and his ability to think like an engineer allowed him to not only work out whatever technical problems that arised but also helped him work to strict deadlines, plan ahead and mix creative thinking with practical application. Perhaps his transferable skills from engineering was what made his movies so memorable.
Oti Mabuse, Professional Dancer (BBC Strictly Come Dancing)
Whilst we all know and love Oti for her position as a professional dancer on BBCs Strictly Come Dancing, her first career destination was to become a Civil Engineer! Before finding her love of dance, Oti graduated from the Tshwane University of Technology, with a goal to help design irrigation systems for hartebeespoort dam and RDP in Garankuwa.
However, her passion for dancing became evident as she went on to win several South African Latin American Championships, various German dance championships and came second in the European Championship Latin, before joining the BBC. Oti still recalls her time of studying civil engineering as a contributing factor to the ambitious woman she is today.
To find out more information about where the world of engineering can lead you, why not contact our team for a personal tour of our facilities on 01724 878100 or info@enlutc.co.uk.